Africa Day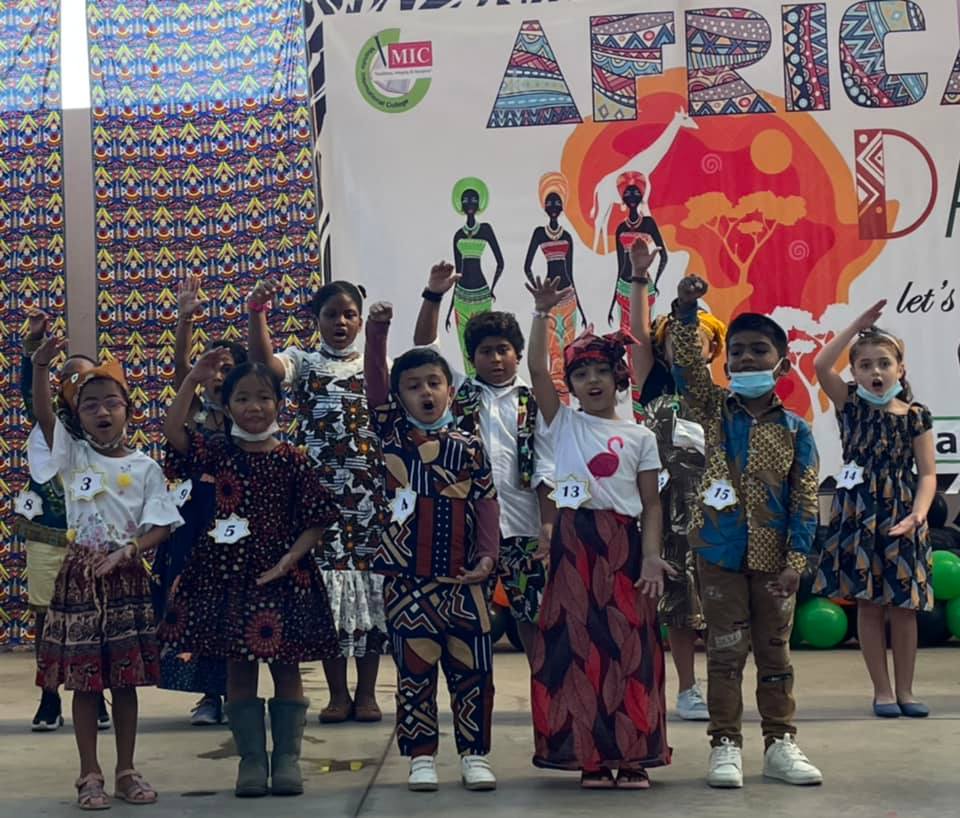 Africa Day
The Africa Day celebration took place in MIC on May 25, 2022. It was done at the same time in all departments. The primary and high school departments did it on the stage near the canteen, and the kindergarten did it in front of their playground.
The primary department, grades 1 and 2, came first to do their program, with the students doing some poem interpretation, group singing, and dancing. The grades 3 to 6 came next, also with some song interpretation and dances. Afterward, the high school came and hosted their own. They had a unique program in which they asked their teachers to join them on stage. Each teacher was asked to draw a line indicating what they intended to do, such as sing, act, or dance. Everybody was laughing about the awkward tasks being asked of the teachers to do, like singing the alphabet, happy birthday, and doing push-ups. And then some groups of high school students danced and interpreted. Then, later, everyone danced to an African rhythm. It was an unforgettable festival indeed.
There was a parade of costumes done before each grade level presented their program. Each grade level was assigned a miss and a mister from Africa. This title was meant for fun, so to show who dressed the best in each section. And the winners per grade level were as follows:
1 Love- Duarte Maltesinhos, Nithiksha Karthick
1 Hope- Godfrey Mutindi, Praise Mwenifumba
1 Wisdom- Mohammad Jamil, Sandiya Filipia
2 Unity- Hamza Memom, Scarlet Langa
2 Modesty- Aecio Emmanuel Machavane, Nayyara Mahomed Nazir
2 Faith – Shlok Ambaramo, Delisha Danish
3 Diligence- Darnell Manjate, Kaamila Abdulrazak
3 Patience- Shori Falange, Akilla Hassangy Da Silva
3 Kindness – Samuel Berhanu, Matipamufaro Chipokore
4 Generosity- Kabir Ringu Kabir, Eunice Mapanzure
4 Loyalty- Kaylo Warren Muianga, Taqwa Hander
4 Humility- Raymond Manalili and Neylan Maputere
5 Honesty- Ahmad Rauf, Marlee Mata
5 Perseverance- Chilton Sargento, Hritika Sodha
6 Compassion- Dumbani Wallat Chiboleca, Alecia Alexandre Jorge Noe
6 Charity- Allan Thembo, Kalpina Mabjaia
6 Harmony- Allan Christian Dercio Matale, Shakirah Lucetta Momed
The program was hosted by Shane O'Donovan and Emily Iliev both in Grade 3.